On the basis of § 4 and § 20 of the PSSCE Statute, the General Assembly of the Members of the Society gave the title, status and rights of honorary membership of Polish Scientific Society of Combustion Engines to the following persons:
Prof. Maciej Bernhardt DSc.
Prof. Marian Cichy DSc., DEng.
Prof.

Jan Czerwiński

DEng. (Switzerland)
Prof. Herbert Heitland (Germany)
Prof. Andrzej Kowalewicz DSc., DEng.
Prof. Hans-Peter Lenz (Germany)
Prof. Helmut List (Austria)
Prof. Janusz Przastek DSc., DEng.
Prof. Maciej Sobieszczański DSc., DEng.

Marek Ślęzak

MEng., Institute of Aviation
Prof.

Antoni Świątek

DSC., DEng.
Prof. Jan A. Wajand DSc., DEng.
Prof. Marian Zabłocki DSc., DEng.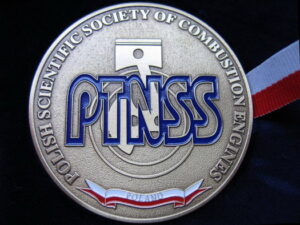 These honored persons are widely known and highly respected. Their multiannual effective activity has largely and constantly contributed to the field of combustion engines, or their professional activity has supported the development of teams and research institutes in this field in universities.